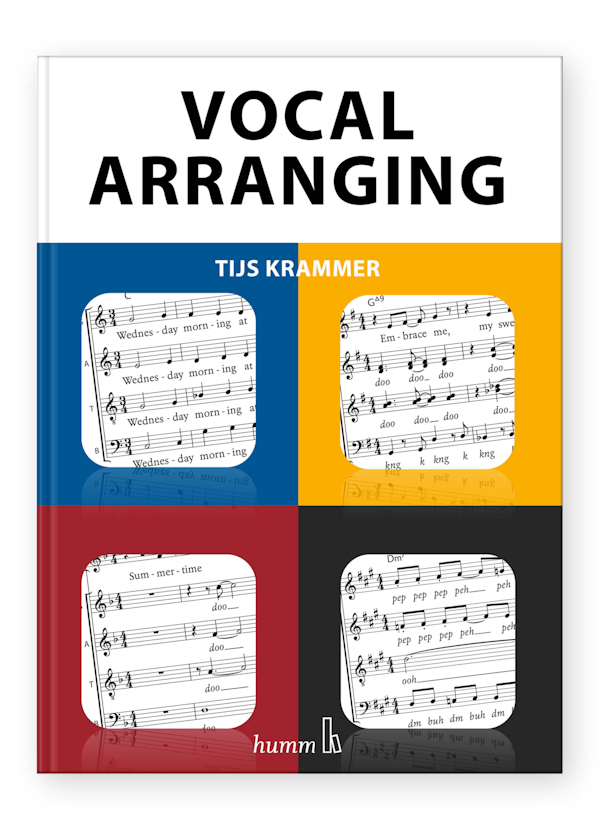 This website con­tains in­for­ma­tion about the book Vocal Arranging by Tijs Krammer.
Vocal Arranging
"You know the range of the voices, you know the song you want to arrange and you know who will get to sing the lead. What will be your next step now? Will the arrangement be homophonic? What options you have to write that catchy guitar riff? How do you really make the bass really groove? Arranging is a big challenge. Even if you're familiar with music theory, you'll encounter many dilemmas in writing for voices. Arranging is a craft. The good news is: you can learn this trade. Tijs Krammer helps you by sharing his lifelong experience and showing the possibilities with practical examples."
Whether you are inexperienced as an arranger and don't know where to start, or are already advanced and don't know how to proceed, you will be inspired by Vocal Arranging.
Chapters
The book contains the following chapters:
1 Voice Types and Voicings
2 Rhythm
3 Chord Symbols
4 Writing Harmonies
5 Arranging in Layers
6 Accompanying Parts and the Bass Part
7 The Structure of an Arrangement
8 Notation

Here is the detailed Table of Contents.
Who is this book for?
This book is aimed at people with a lot of musical experience. It is intended for conservatory student and graduate musicians, but also for advanced amateurs who are not afraid of music theory and chords. We assume that the reader is fluent in reading music, in both treble and F clef. We also assume that they can play the piano and know their way around chord symbols.
This book will help you write for voices. Maybe you've never written an arrangement before and you want to give it a try. Or maybe you've reworked a few pieces but know that you're missing some skills. Or maybe you've written a lot for instruments and you're looking for knowledge about voices. In all these cases you can be inspired by this book.
Musical examples
The musical examples are based on songs by George Gershwin and The Beatles. From Gershwin songs are chosen such as Summertime, I Got Rhythm, Embraceable You, They Can't Take That Away From Me and A Foggy Day, and of The Beatles songs such as Yesterday, Let It Be, Penny Lane, She's Leaving Home and Lady Madonna.
There are no complete arrangements in this book. Most musical examples only show only a few measures to illustrate a concept or technique. The musical examples are converted to audio files and you can listen to them here.
Buy
You can order the book for 24.95 USD from Amazon. Check out Amazon in your country or in a country nearby, such as Amazon USA, Amazon UK or Amazon DE. The book is also available as hardcover (for 34.95 USD) and as ePub (for 9.95 USD).